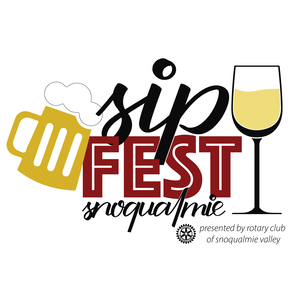 The Rotary Club of Snoqualmie Valley Presents:
SipFest 2022
A Wine, Beer and Cider Sipping Event

Saturday, July 9th, 2022 (revised date)
6:00 – 9:00 PM
Snoqualmie Railroad Park at Downtown Historic Snoqualmie
7971 Railroad Ave SE, Snoqualmie
About
SipFest is back! The 6th annual SipFest Snoqualmie will occur Saturday, July 9th from 6:00-9:00 PM outdoors in the picturesque Snoqualmie Railroad Park. Enjoy the open air and abundance of space in a healthy, safe environment to stroll about, sip, mingle, munch, and listen to live music.

Bring your own glass to taste samples of wine, beer and cider from local wineries, breweries, and cideries, enjoy tasty food and enjoy a night out in a beautiful setting!

Check back later for a list of participating wineries, breweries and cideries. The list from last year included:
-425 Cellars
-Cadence Winery
-Convergence Zone Cellars
-Dahlman Cellars
-Drum Roll Wine
-Fair Isle Brewing
-Mercer Estates Winery
-Michael Florentino Cellars
-Pearl and Stone Wine Co.
-Red Earth Wines
-Republic of Cider
-Rider Cellars
-RJ Wines
-Sigillo Cellars
-Sin Banderas Wines
-Sleight of Hand Cellars
-Smasne Cellars
-Snoqualmie Falls Brewery
-Treveri Cellars
-TruthTeller Winery
-Uva Furem Winery
-WineHunter Wines
-William Grassie Wine Estates
This event is a collaboration between the Rotary Club of Snoqualmie Valley and Seattle Uncorked. Rotary exists to advance the ideal of Service above Self. We are a group of active volunteers committed to the neediest in the Snoqualmie Valley community. 100% of all fundraising event proceeds are given back to the community.
Ticket information coming soon!
All patrons must be over 21 years of age with valid photo ID.
No cash accepted on site – debit or credit cards only.