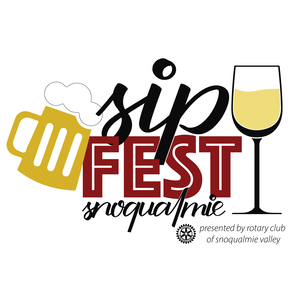 The Rotary Club of Snoqualmie Valley Presents:
SipFest 2019
A Wine, Beer, Beverage &
Food Tasting Event
Saturday, June 22nd 2019
6:00 – 09:00 PM
Downtown Historic Snoqualmie
7971 Railroad Ave SE, Snoqualmie
About
We are delighted to announce that our 4th annual wine & beer fundraiser, SipFest 2019, will take place again at Downtown Historic Snoqualmie.

This event is organized by the Rotary Club of Snoqualmie Valley. Rotary exists to advance the ideal of Service above Self. We are a group of active volunteers committed to the most needy in the Snoqualmie Valley community. 100% of every fundraising event proceeds are given back to that community. The list of our 2019 grant recipients is here.
All Patrons must be over 21 years of age
with valid photo ID.
Directory of Participants
Wineries
Ancestry Cellars
Cedar River Cellars
Chateau Beck
Chateau NoElle Vineyards & Winery
Convergence Zone Cellars
Davenport Cellars
Ellensburg Canyon Winery
Love That Red
Michael Florentino Cellars
Mt. Si Winery
Patterson Cellars
Rocky Pond Winery
Sigillo Cellars
Sol Stone Winery
Tertulia Cellars
William Grassie Wine Estates
Wine Hunters
Breweries
Cider
Join today!
If you would like to participate in SipFest 2019, please contact us by submitting this contact form: